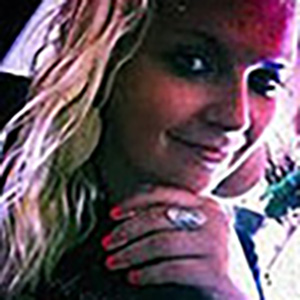 "Art is a huge part of my life because this is who I am and this is what I love to do. Art is my passion; it says it all." –Ashley Shaffer
Born and raised in Baltimore, Shaffer grew up deaf in a hearing family. Her love of art surfaced when she was about four years old. Following her passion, she majored in Art and Imaging Studies and graduated from Maryland School for the Deaf, and Rochester Institute of Technology.
Upon being asked her inspiration, Shaffer finds expression to be her biggest motivator. Her artwork is based on experiences, hot topic issues, and other aspects of her life that she strives to translate through her artwork. She mentions that there are some aspects to her work that are hidden and meaningful, which allows people analyze what she's thinking and how she feels. She says, "It's like they are looking at my artwork in more than a thousand words, just as reading a book without the end of a chapter."
Another inspiration for Shaffer is fashion designer Betsey Johnson. She says artists similar to Johnson (and Johnson herself) who have a colorful and abstract style catches her own eye and essentially influences her artwork in that exact way.
Shaffer notes that being deaf does not affect her artwork whatsoever. She expresses her deaf identity within her artwork because it is part of who she is, and her overall expression. Shaffer calls some of her pieces to be "Deaf Art," which is especially interesting. She says, "I find that it is unique because there aren't a lot of people who create "Deaf Art." However, I know it's pretty vague for hearing people who don't understand deaf culture that also don't understand this type of art."
Ashley Shaffer is a talented artist, and creates beautiful pieces. Just by looking at her artwork, you can tell she is a unique artist with a lot of potential. She sells her work on etsy.com, a popular site for creative artists like herself. Check out Ashley on Facebook and on etsy.com!